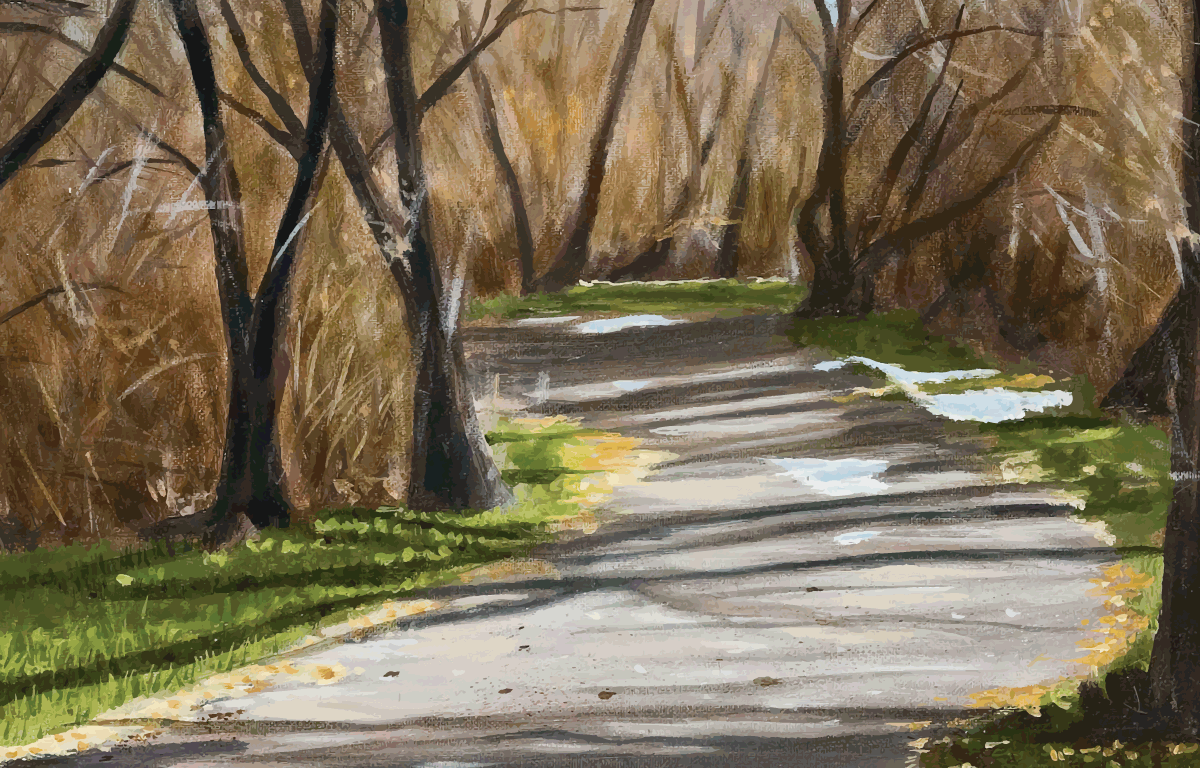 "If you ever had to move from one house to another, how did you feel? Quincy is a little horse who is the color of a new penny. He lives on a farm with a red barn and loves to ride the trails in the forest with the owner of the farm and his children. When spring comes, Quincy waits for someone to put on his saddle, but no one comes except the neighbor man to fill Quincy's water tank. Finally a man and a woman come with a white horse trailer to tell Quincy that he has a new owner and a new home. They take him to a large barn with many stalls. This barn has an outdoor arena that is full or jumps. Quincy watches other horses jump the jumps and win lots of ribbons. But he doesn't know how to jump jumps or win ribbons. What is he going to do?
Horses can be extremely gorgeous creatures, and most children dearly love them. Author Camille Matthews uses a horse to tell an endearing story about the change and growth that is both exciting and reassuring for youngsters, who will also enjoy looking at the striking, full-page oil paintings by illustrator Michelle Black. Quincy Finds a New Home . . . is a tale not just of horses but also of love, security, and wisdom. I found it quite a delightful book."
- Wayne S. Walker, Home School Book Review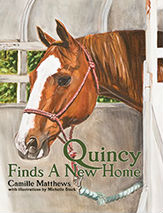 "Have you ever been to the desert? If not, what do you think it would be like? Quincy is a little red horse who lives in a tan and white barn with many other horses including his best friend Beau, and old brown horse. Quincy and Beau's owner is a woman named Cam who comes to ride them almost every day. One day a huge truck comes and Beau tells Quincy that they are going on a big trip to the desert. On their way from New York to New Mexico, Beau tells Quincy about the draft horses of the Amish in Pennsylvania, the Thoroughbred race horses of Kentucky, and the American Quarterhorses of the Texas rodeos, among others. But what will they find when they get to the desert in New Mexico?
In this sequel to Quincy Finds A New Home, which introduced young readers to Quincy the horse, author Camille Matthews tells a fun story of adventure, friendship, and hope. She also provides a lot of interesting information about different kinds of horses, which would complement a scientific study of these animals, and about the various states through which Quincy and Beau travel, which fits well with a study of American geography and history. The colorful illustrations by Michelle Black include paintings of the different horse breeds mentioned and a couple of maps to help in following the two horse friends' trip. Children can learn with Quincy of all the things horses can do and maybe even dream about their own possibilities."
- Wayne S. Walker, Home School Book Review
"Horses have so much to teach us."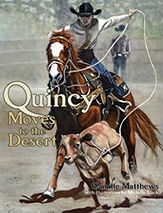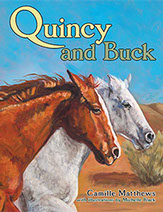 Copyright © 2019 Pathfinder Equine Publications. All Rights Reserved.
powered by BSNmotion